Home > Company > Promotion Center > News
Opening of the Ceragem Dream House, Home of Human Rights for Female Immigrant Workers
2017-06-22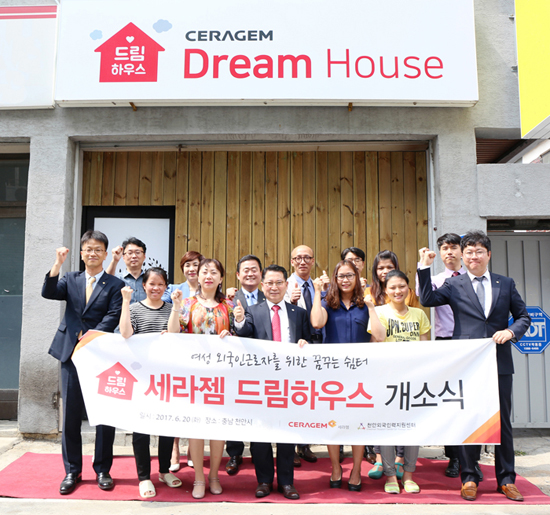 The global healthcare company Ceragem and the Cheonan Support Center for Foreign Workers announced on June 20th that they hosted the opening ceremony of CeragemDream House, a new home for female immigrant workers in difficult circumstances.
Located in Seobuk-gu, Cheonan, the center will serve as a temporary protection facility (lodgings provided) for female immigrant workers who have recently come to Korea and are in employment or cannot find work and have found themselves in difficult circumstances due to the closing of their workplaces or health problems. The center will provide those in need with a temporary place to stay for up to three months until they find new employment.
The ceremony was joined by ten executive officials of Ceragem including CEO Lee Gyu-cheol of Ceragem, Chief Executive Director Lee Byeong-ik of Naviel, and Executive Director Park Seo-jeong of Club Balance 5 as well as 20 participants including Team Leader Lee Gwang-jae of the Cheonan Support Center for Foreign Workers, translation staff, and five workers staying in the newly-created home.
Through the MOU agreement with the Cheonan Support Center for Foreign Workers made last April, Ceragem has offered support for the operation of the Ceragem Korean Language Academy and diverse social integration programs including educational sessions for those who are scheduled to return to their home countries. Additionally, Ceragem plans to continually support operation expenses and supplies associated with Ceragem Dream House.
Ms. Huong, who is staying in Ceragem Dream House, stated: "I came to Korea last July. Since my former employer was in financial difficulties, I`ve been forced to find other work. Although it`s not easy to find a job, I feel relieved to know I have a safe home to stay in." She went on, "I feel deeply thankful to Ceragem and the Cheonan Support Center for Foreign Workers for preparing the facility and generous support."
After its establishment in 1998, Ceragem, with its unique experience-oriented marketing, has maintained a large following from customers in over 70 countries including Korea, China, and India, as well as many European countries. Its major businesses have expanded to cover diverse brands including Shelax (individual thermal heat massagers), Naviel (women`s health care), Club Balance 5 (beauty, health, and diet), and Ceragem Health & Beauty (global cosmetics).