Home > Company > Promotion Center > News
Ceragem Health & Beauty Makes an MOU Agreement with CCIC Korea
2017-07-24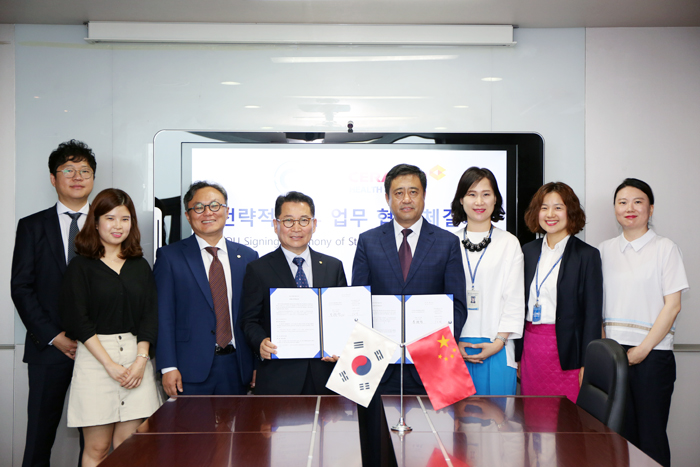 The global cosmetic brand Ceragem Health & Beauty created an MOU agreement with CCIC Korea in the CCIC Korea office, Mapo-gu, Seoul, on July 18
th.
Standing for the China Certification & Inspection (Group) Co., Ltd, CCIC is the largest certification, inspection, and testing Chinse agency, whose creation was approved by the AQSIQ, CNCA, and CNAS of China. With its main headquarters in Beijing, China, CCIC has over 40 branches around the world including in Korea.
The agreement will offer easy access for Ceragem Health & Beauty to secure the certification and approval consulting services from CCIC Korea needed to export its products to China. Specifically, the agreement enables Ceragem Health & Beauty to obtain the China Compulsory Certification (CCC) and China Quality Certification (CQC).
CEO Lee Gyu-cheol of Ceragem stated: "We are delighted to make this agreement with the Chinese certification and approval agency CCIC Korea. The agreement will no doubt lay the foundation for mutual business development between China and Korea."As soon as it was launched, Ceragem Health & Beauty went to Qingdao to stimulate its business in China and, currently, it operates a local branch and a production line there.
As a leader in creating harmonious communities through "creating social value"(CSV) beyond its corporate social responsibility, Ceragem has engaged in robust social contribution programs in China. These include the establishment of the Ceragem Hope Elementary School Project and Scholarship Project. For its efforts, Ceragem was awarded the Best Korea CSR Company in China in 2016, receiving the award for two consecutive years. In Korea, Ceragem was also honored with the 2016 Presidential Industrial Service Merit Medal as well as with the Best CSV Company Award during the Korean Marketing Award for two consecutive years (in 2016 and 2017).