Home > Company > Promotion Center > News
Ceragem, the Best CSR Model Enterprise of Korea in China for 3 Consecutive Years
2018-01-05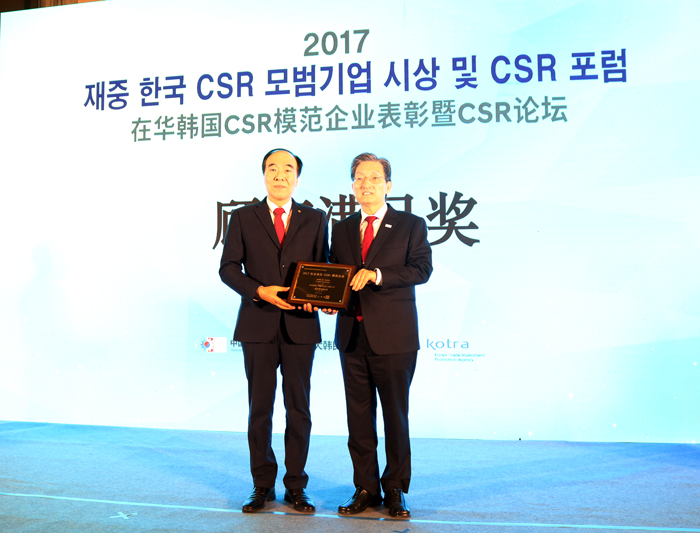 Ceragem, the global healthcare specialist, was selected as the Best CSR (Corporate Social Responsibility) Model Enterprise of Korea in China for 3 consecutive years.
The ceremony held in the Beijing Crown Plaza on the 27
th
was for the `CSR Model Enterprise Award in China 2017` organized by the Embassy of the Republic of Korea in China and supported by KOTRA and the Korea Chamber of Commerce and Industry in China.
The award was held by the Embassy of the Republic of Korea in China to present the CSR Model Enterprise among Korean enterprises in China. To this end, the evaluation committee, organized of Korean and Chinese members, selected the final winner in accordance with the evaluation standards including strategy, practicality, innovativeness and sustainability of social responsibility of enterprises.
Ceragem China was listed as the best enterprise in the customer satisfaction category. Eight other enterprises including Samsung (Best Strategy), LG Electronics (Community Contribution) and POSCO (Creativity and Innovation) were also listed as best enterprises in each category. Twelve enterprises including Amore Pacific (Customer Satisfaction), SK (Best Strategy), CJ (Community Contribution) and LG Chem (Creativity a
nd Innovation) were listed as good enterprises in each category.
Ceragem China deployed emergency rescue efforts in disaster sites in China including the devastating earthquake in Sichuan, drought in the southwestern region and flooding in Jilin. The representative CSR activities of Ceragem include education, medical service, rescue support and progressive charity work as well as the establishment of eight Hope Elementary Schools in China.
Ceragem established Yanji Ceragem Medical Equipment Co., Ltd. in China in 2001 through investment. Through specialized product technology and differentiated experience marketing strategies accumulated for 15 years, Ceragem implemented an independent manufacturing infrastructure including four local plants and one R&D Center in China. Furthermore, Ceragem continues a variety of social responsibility activities throughout the world including India, Germany and Chile. The business brands of Ceragem include Naviel, Club Balance 5 and Health & Beauty (H&
B)