Home > Company > Promotion Center > News
Mr. Lee Hwan-seong, the Chairman of Ceragem, joined the Presidential Economic Mission as the representative businessman leading the economy of Vietnam.
2018-03-29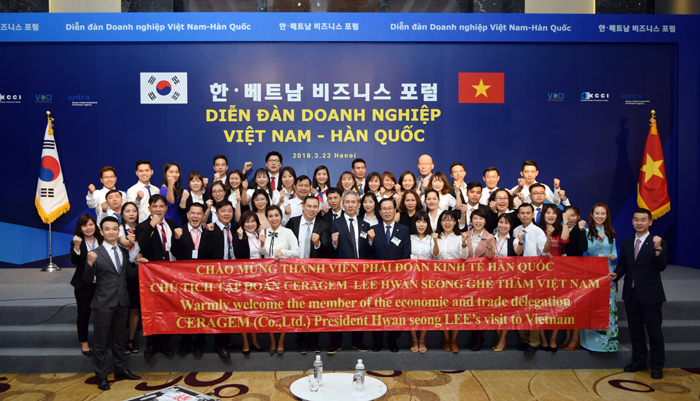 Ceragem announced that Mr. Lee Hwan-seong, the chairman of Ceragem, a global specialist in health care, participated in the `Korea-Vietnam Business Forum` as a member of the Economic Mission during President Moon Jae-in`s Official Trip to Vietnam.
The `Korea-Vietnam Business Forum`was jointly held by the Korea Chamber of Commerce and Industry and the Vietnam Chamber of Commerce and Industry in Hanoi, Vietnam on the 23rd.
In the forum, President Moon Jae-in of the Republic of Korea, President Tran Dai Quang of the Socialist Republic of Vietnam, and several leaders of Vietnam including the Communist Party General Secretary, the Prime Minister and the Chairman of the National Assembly discussed economic cooperation in various ways.
The Economic Mission to Vietnam, the largest mission in the history of economic missions in Korea, included 341 businesspeople from 181 companies including Samsung Electronics, Shinsegae, Hyundai Motor, SK Energy, LG Electronics, POSCO and GS E&C, along with about 400 government officers including Deputy Prime Minister Kim Dong-yeon, Minister of Trade, Industry and Energy Paik Un-gyu, and Minister of Foreign Affairs Kang Kyung-wha.

Ceragem has been managing about 50 centers around Ho Chi Minh and Hanoi since its first entrance into Vietnam in 2008. Ceragem has been greatly favored by the Vietnamese with `Master V3`, the thermal spine massager for family use that enables customized massage by measuring the curvature and length of a user`s spine using the principles of alternative chiropractic medicine and the oriental medicine approach of `heat, acupuncture and moxibustion`.
Ceragem has been selected 12 times to date as a member of the economic mission during the President`s official trips to foreign countries including China, India and Germany, and twice as a member of the economic mission to Vietnam since Sep. 2013.