Home > Company > Promotion Center > News
Ceragem won the Grand Prize in the personal medical device category in the 2018 Best-Loved Brands of Korea
2018-04-06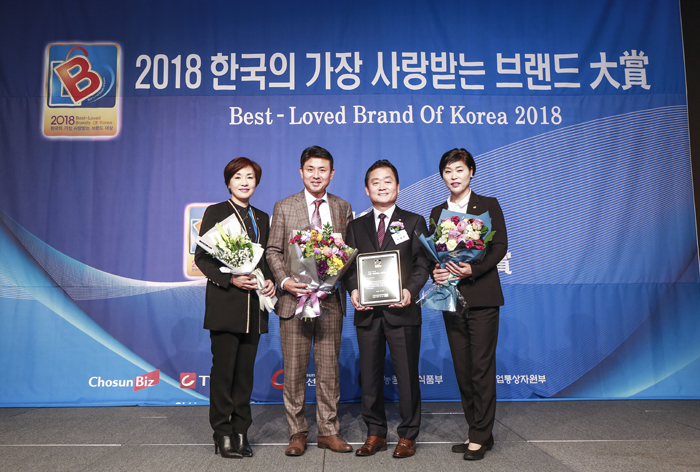 Ceragem, the global health care specialist, won the Grand Prize in the personal medical device category at the 2018 Best-Loved Brands of Korea held in the Grand Ball Room, The Plaza Hotel on the 29th.
The Best-Loved Brands of Korea is organized by Chosun Biz and supported by the Chosun Ilbo, the Ministry of Trade, Industry and Energy and the Ministry of Agriculture, Food and Rural Affairs. It selects and awards brands that are continuously favored by consumers with closeness, enthusiasm and responsibility not just the superiority of products as well as improving the global brand competitiveness of Korea.
Winning the Grand Prize in the personalmedical device category, Ceragem launched its automatic personal thermal massager that was researched and developed by applying the principles of alternative medicines from the east and west since its establishment in 1998. Ceragem has been widely recognized for the quality of its products and technologies accumulated through its ceaseless endeavor. Ceragem has been continuously favored by customers throughout the world in about 70 countries including China, India and the USA through customer-oriented marketing based on experience by customers.
The `Master V3`, the personal thermal massager and Ceragem`s main product, provides custom massage with an advanced director movement system and a function measuring the curvature of the spine. It enables a more pleasant and effective massage by analyzing the diverse features of each individual spine and moving the internal director to fit to the curvature of each spine.
Ceragemhas been drawing substantial favor from female customers pursuing a healthy and beautiful life with `Youridm`, a total body care medical device relieving muscular pain by ultrasonic wave, low frequency and thermal massage function, `Lady`, the total skin care medical device enabling easy skin care at home, with multiple functions including high frequency and ultrasonic waves, `Naviel`, the health care brand for women, and โ€˜Club Balance 5โ€™, the beauty, health and diet.
Ceragem was recognized for its brand and product power by winning multiple awards including โ–ฒ Grand Prize for Social Contribution from Korea Chamber of Commerce and Forbes in 2017, โ–ฒGrand Prize in 2017 Global Power Brand (medical device category), โ–ฒ being listed as a Global Best Product in 2015 and 2016 and โ–ฒ Citation from the Minister of Food and Drug Safety.