Home > Company > Promotion Center > News
Chairman Lee Hwan-seong of Ceragem joined the economic mission during the state visit of President Moon Jae-in of the Republic of Korea to India
2018-07-18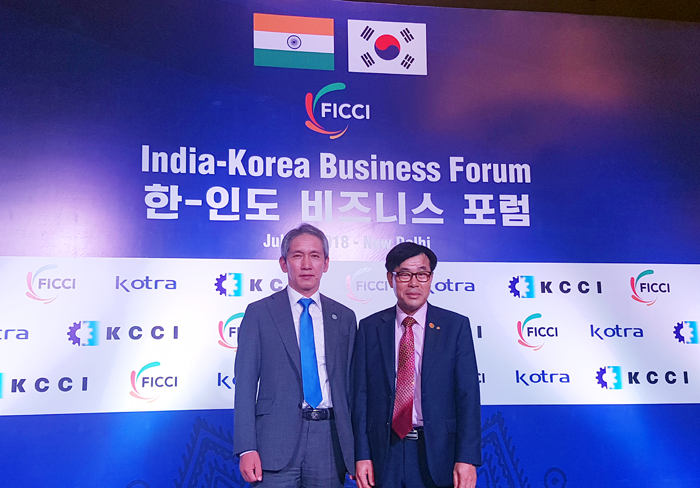 Ceragem, the global health care specialist, announced that the chairman, Lee Hwan-seong, joined the economic mission during the state visit of President Moon Jae-in of the Republic of Korea to India.
Beginning the state visit schedule to India for two nights and three days on July 8th by first visiting Swaminarayan Akshardham, the biggest Hindu Temple in the world, President Moon Jae-in of the Republic of Korea met the Minister of Foreign Affairs of India on the 9th and participated in the Korea-India Business Forum and Business Partnership event with the economic mission, which was comprised of professional executives in charge of businesses in India and business leaders from both countries.
The economic mission to India includes about 100 participants from fourteen large enterprises including Samsung Electronics, Hyundai Motors, SK Lubricants, LG Electronics, Lotte Group, Hanhwa Defense, Doosan, CJ Logistics and CJ Cheiljedang, twelve strong medium-sized enterprises including Ceragem, SPC Group and Ssangyong Engineering and Construction, fifty-five medium and small-sized enterprises and twenty-three organizations and associations as well as the Korea Chamber of Commerce and Industry.
This economic mission to India marked the 13th participation event of Ceragem, the second visit to India for Ceragem since 2014. Ceragem has participated in economic missions to eleven countries including China, Vietnam and Germany.
Ceragem India started business in Mumbai in 2005 to enter the Indian market. Ceragem India operates about 500 centers in India and is substantially favored among Indian residents thanks to its experience-oriented marketing.
Ceragem continues its CSR activities (Corporate Social Responsibility) to contribute to social development including the construction of the Ceragem Dream School, support for poor regions in India, the construction of libraries and support for areas that have suffered disaster. Ceragem was reported as the exemplary CSR case among Korean enterprises in India along with Samsung Electronics and LG Electronics in the `India CSR Handbook`published by the Korea-India CSR Forum and the India Chamber of Commerce and Industry.