Home > Company > Promotion Center > News
Ceragem Receives Corporate Social Responsibility Field Grand Prize, `2017 KCCIForbes CSR`
2017-10-17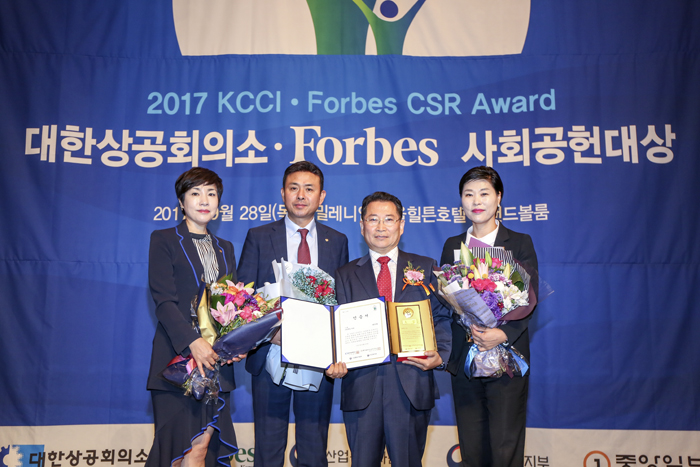 Ceragem, a global company specialized in healthcare, has revealed that it was awarded the Grand Prize of the corporate social responsibility field during the `2017 KCCIForbes CSR Awards` held at Seoul Hilton Hotel on the 28th.
The `KCCIForbes CSR Grand Prize` is jointly hosted by KCCI and Joongang Ilbo and sponsored by Ministry of Trade, Industry and Energy and Ministry of Health and Welfare. Established in 2010, it is an event that selects and awards every year the superior firms and organizations that persistently and actively performs CSR.
By realizing the `sharing and epigyny`management philosophy, for the sharing value creation of win-win for both the firm and society, it was realized the pioneering efforts for CSR by the awarding of the honorable `2017 KCCIForbes CSR Grand Prize` of the CSR field.
Ceragem is proceeding from 2006 for 11 years with regular sponsorship with Child Fund Korea and social welfare corporate Ikseonwon and from 2011 for 6 years, it is conducting the Kimchi making sharing event to become a model for helping the socially vulnerable group.
Moreover, after its signing of a business agreement with the Cheonan Support Center for Foreign Workers in March, it is consistently executing CSR activities as a global firm, which includes โ–ฒKorean Language Institute for foreign workers โ–ฒFemale foreign workers rest area establishment and management โ–ฒGlobal venture fairs โ–ฒ Foreigner joint wedding sponsor.
Also, as well as domestic efforts, the firm is expanding its CSR efforts worldwide such as the Hope Elementary School Project, a reconstruction project of China`s obsolete elementary schools (7 constructed), establishment of Parkae Sanitation Center, 4 universities (Beijing University, Nankai University, Tsinghua University and Jilin University) scholarship support project, India`s Ceragem Dream School construction, Bangladesh Dahka University poverty-stricken household student 1 year full scholarship support and Nepal earthquake damage support.
CEO Lee Gyu-cheol, who participated in the awarding ceremony, said that โ€œI am happy that Ceragem`s CSR and diverse contributory activities efforts have been recognizedโ€ and added that โ€œthe firm will continue to actively participate in local community development and leading the culture of sharing.โ€